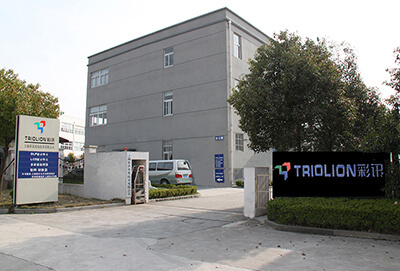 Beijing Triolion Science & Technology Co. Ltd, established in January 2000, is a professional manufacturer of video wall products, specializing in DLP cubes, LCD video walls, LED display screens, multi-screen controllers, matrix switchers and related software.

As a leader in the mainland China video wall industry, Triolion has provided high-performance products and optimized solutions for more than 4,000 users. We are the ODM/OEM partner of numerous world-class companies. Our DLP and LCD video wall products have been exported to South Korea, Singapore, Russia, the US, Southeast Asia, the Middle East and more areas worldwide.

Shanghai Triolion Optical-Electrical Technology Co. Ltd, the production and foreign trade base of Beijing Triolion, covers 5,000 square meters and outputs up to 600 units each month. In our in-house DLP and LCD testing areas, we can test up to 200 DLP units and 300 LCD units simultaneously. Thus, we are able to guarantee the supply of products in large quantities.

Produced according to a 7S management system and inspected with strict QC procedures, our products are consistently of high quality. For added assurance, we've been obtaining ISO 9001, ISO 14001, OHSAS 18001, CCC, CE, CB, RoHS and WEEE certificates since 2000.

With 14 years' development, we offer solutions for control rooms, monitoring centers, thermal power plants, and the defense, aerospace, healthcare, education, public security, energy and other industries. As a leading brand in our market, Triolion also offers other display devices, image processing devices, signal distributing devices and related software. Our sales and technical teams throughout China are devoted to offering you instant help and support.